Craigrownie
Welcome to Craigrownie Parish Church, which serves the communities of Cove, Kilcreggan and Peaton.
Our servcies for 2021 are at 11.15.
Intimations
Craigrownie Intimations
Our Autumn Fair will be in held in Cove Burgh Hall on Saturday 2nd October. We wil have teh usual stalls including,
Baking, Preserves, Books, 'Nice Things', Bric A Brac, £1.00 Stall and Tombola as well as Teas & Coffee. The Fair is open from 2pm.
This will also be our National Giving Day and you are invited to make a gift to the local Church in thanksgiving to God.
We will celebrate our Harvest Thanksgiving on Sunday 3rd October when we will be suporting the work of WaterAid and Helensburgh and Lomond Foodbank.
Please turn your hearing aid to T to hear through the loop.
Please let Rev Christine know of anyone who is ill at home or in hospital. Please do not assume she already knows. Thank you.
SAFEGUARDING: If you suspect or witness harm or abuse, or it is reported to you, you must immediately report it to your Safeguarding Co-ordinator David Jamieson or a member of the Ministry Team.
General Intimations
The Walking Group meets every Tuesday in the St Modan's Church grounds at 10.00. The walk will depend the ability of the walkers.
If you have a smart phone, you can now check in to Test and Protect by scanning the QR codes on display in the church.
Please let Rev Christine know of anyone who is ill at home or in hospital. Please do not assume she already knows. Thank you.


Service Arrangements
We currently use the 4th edition of the "Church Hymnary" and "Songs of God's People. Most pews have a bible. The sermon is near the end of the service followed by the offering. There is a choir where new voices are welcomed. Children are welcome in our Church. Young children can leave the service for activities in the meeting room. Communion is celebrated at least four times a year and is open to all people, whatever their tradition. Special services for Holy week are shared with our sister Churches in the linkage. Ecumenical Services, such as during the Week of Prayer for Christian Unity, the World Day of Prayer and our annual Holiday Club Celebration, are also shared with our friends from St Gildas' Roman Catholic Church.
The Church Building
The foundation stone for the building was laid in July 1852 and opened for worship in February 1853. Originally it was a chapel of ease, however, in response to a petition organised locally, Presbytery agreed to it becoming a parish church in December 1863. During 2013 we celebrated both 160 years of worship and 150 years existence as a parish church.
The original design is reputed to have been a combination by John McElroy, the main developer of Cove, and an unknown person described as a 'young Englishman'. In 1889 the Church was substantially enlarged by the architects Honeyman and Kepple.
Our Category B listed building is Early English Gothic, with a steeply pitched roof on short, buttressed walls. It forms the shape of a cross with the chancel at the top with the Vestry off. The organ was dedicated in 1905. There is a central bellcote above the chancel arch. Over the years the Church has been gifted with very fine stained glass windows. In 2016 the rear of the church was refurbished to create a meeting room with up to date associated facilities. Also, the pews were removed from the Transepts to provide more flexible space.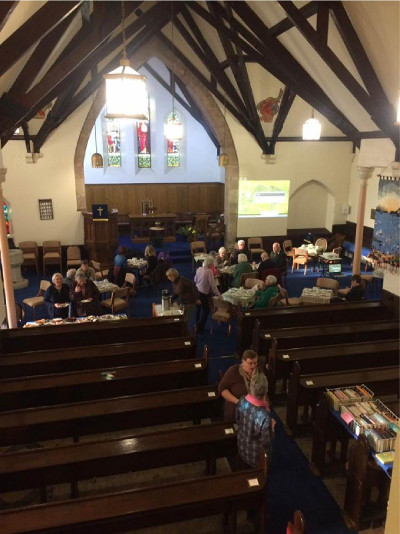 Young Children
Jesus enjoyed being surrounded by children, so do we. Therefore, please bring them with you. Baptisms are arranged directly with the Minister.
Organisation
The church is organised in the traditional Presbyterian manner. There is a Kirk Session which looks after the spiritual and welfare activities of the Church along with fabric and finance. There is an annual meeting in the Spring, when the whole congregation is invited to listen and question. The parish is divided into a number of districts, each with its own elder who tries to keep in touch with all who welcome a visit.
During the Week
There is the traditional Church of Scotland Guild open to all, held on alternate Wednesday afternoons at 2:30 in the Meeting Room. When required, discussion groups are held for those wishing to explore membership and Bible Study is held every other week. Please see our calendar for the most up to date activities.
Social Events
A committee exists to raise funds for the Church and charities, to enhance community spirit, and to enable outreach to the wide community.